DIRECTOR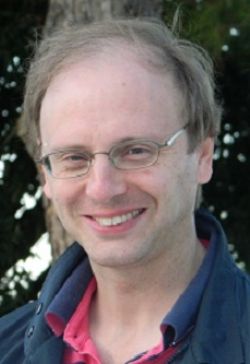 Pietro Ferrario is an Italian musician born in Busto Arsizio 3-XI-1967. He has obtained diplomas in piano, composition, organ, and choir conducting at the conservatories of Brescia, Milano and Alessandria, studying with Lucia Romanini (piano), Bruno Bettinelli (composition) and Luigi Molfino (organ). He improved himself in composition with Azio Corghi in Parma and Siena (diploma with merit in 2000 at the Chigiana Academy), film music with Ennio Morricone in 1992 (Siena - Chigiana Academy), organ with Lionel Rogg, Giancarlo Parodi and others, vocal technique and choir conducting with Stephan Woodbury, Gary Graden and Tõnu Kaljuste.
He has concert activity as a pianist, organist, and choir conductor.
He is an appreciated composer of various works for piano, organ, choir, orchestra, choir and orchestra, which have been performed and recorded in Italy and abroad (Switzerland, Germany, France, Spain, Ireland, Australia, China, USA, New Zealand, Argentina, Israel, Japan, Serbia, Hungary, Austria, Norway, South Africa, Czech Republic, Slovenja, Indonesia, Belgium, UK, Latvia) by important symphonic orchestras and choirs (Orchestra Sinfonica Toscanini, Orchestra dei Pomeriggi Musicali di Milano, Choeur National des Jeunes, Coro Nacional de Jóvenes de la Republica Argentina, Tower New Zealand Youth Choir, Northern Illinois University Chamber Choir, Antioch Chamber Ensemble, Mt. San Antonio College Chamber Singers, Iowa State University Cantamus Choir, Zürcher Sing-Akademie, Internationaler Festivalchor C.H.O.I.R., Vocal Ensemble "EST" (J), Kórus Spontánusz, Mornington Singers, Uranienborg Vokalensemble, Vocapella Innsbruck, Coralia of the University of Puerto Rico, Rezonans Istanbul, Schola Cantorum Sopianensis Pecs, Evoke London, The Aeolians of Oakwood University, (USA) University of the Philippines Singing Ambassadors, Sjaella (D), University of Montevallo Concert Choir (USA), Vocal Ensemble Rondo (PL), Ole Bull Kammerkor (N), Festino Chamber Choir (RUS), Batavia Madrigal Singers, Padjadjaran University Choir (Indonesia),Coro Città di Parma, Ars Cantica Choir, Coro da Camera di Varese, Coro da Camera Trentino, Torino Vocal Ensemble, Vocalia Consort, Genova Vocal Ensemble, The Blossomed Voice, etc.), at times with internationally famous conductors or soloists, like for example Aldo Ceccato, Marco Berrini, Giancarlo Parodi, and in the most important musical festivals (for example Carnegie Hall New York 2019). He composed on commission of important italian institutions like Fondazione Toscanini di Parma, Settimane Musicali di Stresa, Pomeriggi Musicali di Milano, Landesakademie Ochsenhausen (D). Some of his choral compositions are regularly presented and performed in masterclasses dedicated to contemporary choral music. In 2004 he was unanimously awarded the first prize at the prestigious International Trophy of Choral Composition "C. A. Seghizzi" 2004 in Gorizia with the motet "Jubilate Deo", performed during the final of the European Choral Grand Prix 2004. In 2008 he won the first prize in the Second International competition of composition and choral elaboration "Bruno Bettinelli" in Milan, in the section "Works with sacred Latin text for mixed a cappella choir" with the motet "Exultemus", and the second prize in the section "Elaboration of a folk song for a cappella male voices choir" (first prize not assigned). In 2011 he was finalist in the 2nd International Competition for pianists-composers "Franz Liszt" in Bellagio. In 2016 he won first prize in the National Composition Competition "Canta Petrarca", organized by Fondazione Guido d'Arezzo (his winning composition has been compulsory piece in the 65th International Choral Competition "Guido d'Arezzo" 2017 in Arezzo). In 2020 he won first prize in the AERCO International Composition Competition (with future performance of the winning piece "Nightfall" by the King's Singers in 2021). He has published for important publishers such as Ricordi, Carrara, Rugginenti, Sonzogno, FENIARCO, Edizioni Musicali Europee, Sonitus, and the German Carus-Verlag of Stuttgart and Ferrimontana of Frankfurt. He has been invited as a member of the jury at the 44th, 48th, 52nd, 53rd and 54thInternational Choral Competition "Seghizzi" in Gorizia in 2005, 2009, 2013, 2014/2019, and also as the chairman of the jury of the associated "Seghizzi" Choral Composition Trophy in 2009, 2013, 2014 and 2015. He is member of the Bureau for the music area of the "Seghizzi" Association since 2013. He has been invitided as a member of the jury in other important choral competitions, such as Maasmechelen, Matera Rimini and Arezzo (composition competition "Canta Petrarca"). He has collaborated extensively with the Ricordi Historical Musical Archive.
He has been the conductor of Dalakopen Choir for 17 years (2nd prize in golden sash at the 29th "Franchino Gaffurio" Choir Competition in Quartiano 2011, 2nd prize at the 46th Vittorio Veneto National Choral Competition 2012, 1st prize at the 8th Biella National Choral Competition 2012). Currently he is the conductor of Ensemble vocale Calycanthus, which he started in 1997, a mixed a cappella group with an eclectic repertoire; first prize winner in two of the most important Italian choral competitions (Arezzo 2005 and Vittorio Veneto 2006), having been awarded several times in the past in other national and international competitions, with which he has concerts all over Italy and abroad. With Calycanthus he participated in the 47th "Seghizzi" Choral Competition in 2008, obtaining the 2nd prize in the category "choral elaborations of pop music and jazz", the Feniarco prize for the best Italian choir, and the special prize as best chamber choir of the competition. Furthemore, 1st prize at the 8th National Choir Competition "Città di Biella" 2012, 2nd prize ex-aequo (1st not assigned) at the 9th National Choral Competition "Lago Maggiore" (Verbania, 2018). Heading this group, he recorded a CD of contemporary choral music in 2007 for the Italian label Bottega Discantica, and a pop-jazz a cappella arrangements CD in 2012 for SMC label. Important composers such as Miškinis, Dubra, Corghi dedicated pieces to Calycanthus. Important projects in the last years were Martin's and Rheinberger's double choir Masses, and music of Whitacre and Antognini. As a pianist, in the last years he performed in public all Chopin and Liszt Études, Rachmaninoff Études-Tableaux op.39 and a program entirely based on his compositions. He collaborated with the Ricordi Historical Archive in the past. He is the main organist on the 1841 Carrera Organ of the SS. Gervaso e Protaso Church in Parabiago, the town near Milano where he lives.
In 2011 he was professor of harmony, counterpoint, fugue and composition at the Vicenza Conservatory. He was teacher of musical theory at the Cagliari Conservatory in 2014 and 2015, professor of harmony and analysis at the Sassari Conservatory in 2016, professor of choir conducting and choral composition at the Vicenza Conservatory in 2017, professor of harmony and analysis at the Cesena Conservatory in 2018, and professor of musical theory at the "Bruno Maderna" Conservatory in Cesena in 2019, professor of harmony and analysis at the "Arrigo Boito" Conservatory in Parma in 2020. He has been professor of music theory and ear training at the "G. Rossini" Conservatory of Pesaro since 2021.

Some of his most important works are:
Messa for choir, strings, brass and timpani (1995-96) – 30'
Credo II for choir, organ, brass and timpani (2012) – 6'
Passacaglia sul Veni Creator for full orchestra (1999) (also organ version, 2002) – 15'
Sonata for piano (2001) – 28'
12 Études on Chopin's Preludes for piano (2009-2010) – 21'
Ouverture "Omaggio a Schubert" (2002) for orchestra – 6'
Magnificat for mixed choir (2004) – 15'
Toccata for organ (1994) – 7'
No man's land, suite for piano (1997) – 20'
Allegro da concerto, for harp (2000) – 9'
Variazioni su Vexilla Regis, for organ (2003) – 6'
27 sacred motets for a cappella choir, various choir arrangements of Italian folk songs, spirituals and pop songs, various sacred pieces for choir and organ.
Transcriptions: complete piano solo transcription of The Planets by Gustav Holst; organ transcription of the "Gazza Ladra" Ouverture by Rossini, complete piano transcription of the opera "Tat'jana" by Azio Corghi.
Performances of his compositions, scheduled by various artists or groups, or by the composer himself (period 2019/2020):
16-II-2019, New York (USA), Carnegie Hall, motet for mixed choir "Jubilate Deo", University of Montevallo Concert Choir, dir. Melinda Doyle.
28-II-2019, Kansas City (Missouri, USA), ACDA National Convention, Helzberg Hall & Muriel Kauffmann Theatre: Jubilate Deo, The Aeolians of Oakwood University (USA), dir. Jason Max Ferdinand https://www.youtube.com/watch?v=heZbcjj4SyQ
13-IV-2019, Maribor (Slovenija), 15th International Choral Competition Gallus, "Jubilate Deo", version for female choir; Genova Vocal Ensemble, dir. Roberta Paraninfo
20-IV-2019, United States, Jubilate Deo,The Aeolians of Oakwood University (USA), dir. Jason Max Ferdinand https://www.youtube.com/watch?v=a7-fLZbpbTg&feature=youtu.be
7-VII-2019, Tokyo (J), Tsutsuji Hall,Nerima Culture Center, motets for mixed choir Ubi caritas (Japan première), Crucifixus (Japan première?), Salve Regina (Japan première), O sacrum convivium (Japan première?), Jubilate Deo; Ensemble Now.
14-VII-2019, GORIZIA, 17th International Festival "Seghizzinregione", Galleria Seghizzi; "Allegro da concerto" for piano (première: transcription of the piece of the same name written for harp in 2000); soloist the composer.
20-VIII-2019, AREZZO, "Guidoneum Festival": ""Scritto e cantato", Chiesa di S. Michele: motet for mixed choir "Voce mea ad Dominum" (1996, première); UT Insieme Vocale-Consonante, dir. Lorenzo Donati
23-VIII-2019, AREZZO, 67° Concorso Polifonico Internazionale "Guido d'Arezzo", Basilica di S. Francesco, motet for mixed choir "Ubi caritas" performed as a compulsory piece by the following 5 choirs: Vocal Ensemble Rondo (PL), dir. Malgorzata Podzielny; Ole Bull Kammerkor (N), dir. Jon Flydal Blichfeldt; Coro Giovanile Emil Komel (I), dir. David Bandelj; Festino Chamber Choir (RUS), dir.Aleksandra Makarova; Padjadjaran University Choir (Indonesia), dir. Arvin Zeinullah (winners of Grand Prix Città di Arezzo and the special prize for the best performance of this piece http://www.youtube.com/watch?v=6ezmrf8VNe4 )
23/25-VIII-2019, Medan (Indonesia), Ken Steven International Choral Festival: motet for mixed choir "Jubilate Deo"; Deum Voice
6-X-2019, FERMO, IX Concorso Corale Nazionale Città di Fermo: "Benedetto sia 'l giorno": Gruppo Polifonico Suavis Sonus (Perugia), dir. Andrea Burini (choir winner of the 3rd prize, and of the special prize for the best interpretation of this piece)
11-X-2019, Lurago d'Erba (CO), Chiesa Parrocchiale S. Giovanni Evangelista: "Salve Regina"; Ensemble vocale Calycanthus, dir. the composer.
29-X-2019, Tafalla (Spain, Navarra), Centro Cultural Tafalla Kulturgunuea: motet for choir "Jubilate Deo", Batavia Madrigal Singers (Indonesia), dir. Avip Priatna.
31-X-2019, Ordizia (Spain, Basque Country), Parroquia de Nuestra Señora de la Asunción: motet for choir "Jubilate Deo", Batavia Madrigal Singers (Indonesia), dir. Avip Priatna.
1°-XI-2019, Tolosa (Spain, Basque Country), 51° Certamen Coral Internacional: motet for mixed choir "Jubilate Deo", Batavia Madrigal Singers (Indonesia), dir. Avip Priatna.
2-XI-2019, Astillero (Spain, Cantabria), Iglesia de San José: motet for mixed choir "Jubilate Deo", Batavia Madrigal Singers (Indonesia), dir. Avip Priatna.
3-XI-2019, Tolosa (Spain, Basque Country), 51° Certamen Coral Internacional (Teatro Leidor, 11.30 a.m.): motet for mixed choir "Jubilate Deo" (performed during the award ceremony), Batavia Madrigal Singers (Indonesia), dir. Avip Priatna.
3-XI-2019, Pamplona (Spain, Navarra), Iglesia San Francisco de Javier, 8 p.m.: motet for mixed choir "Jubilate Deo"; Batavia Madrigal Singers (Indonesia), dir. Avip Priatna.
10-XI-2019, MILANO, Chiesa di S. Francesca Romana: "Salve Regina"; Ensemble vocale Calycanthus, dir. the composer.
23-XI-2019, Basiano (MI), Chiesa Parrocchiale S. Gregorio Magno: "Salve Regina"; Ensemble vocale Calycanthus, dir. the composer.
11-XII-2019, Muggiò (MB), Chiesa SS. Pietro e Paolo: motet for mixed choir "Jubilate Deo"; Ensemble vocale Mousiké, dir. Luca Scaccabarozzi.
15-XII-2019, Mariano Comense (CO), Chiesa Parrocchiale S. Stefano: "Tu scendi dalle stelle", "Fantasia super White Christmas"; Ensemble vocale Calycanthus, dir. the composer.
29-XII-2019, Lurago d'Erba (CO), Chiesa Parrocchiale S. Giovanni Evangelista: "Tu scendi dalle stelle"; Ensemble vocale Calycanthus, dir. the composer.
22-I-2020, ROMA, Basilica di Santa Croce in Gerusalemme: motet for mixed choir "Ubi caritas"; Coro Note Blu and Gruppo vocale Enarmonie di Villa Carpegna, dir. Marina Mungai.
12-IX-2020, MILANO, Teatro Dal Verme, concert festival MiTo settembre Musica: mottetto per coro misto "Tota pulchra" (1ª esecuzione assoluta); Coro Giovanile Italiano, dir. Petra Grassi
13-IX-2020, TORINO, Conservatorio "G. Verdi", concert festival "MiTo settembre Musica": mottetto per coro misto "Tota pulchra"; Coro Giovanile Italiano, dir. Petra Grassi
25-VI-2021, TORINO, Conservatorio "G. Verdi", Fosco Corti International Competition for choral conductors: "Jubilate Deo" (female choir version) performed as a compulsory piece by 12 different conductors: Coro Artemusica (dir. Debora Bria)
1°-VII-2021, Riva del Garda (TN): music tale "Faragubìn", for 3 treble voices and piano (world première): Coro Voci Bianche Garda Trentino, dir. Enrico Miaroma
9-X-2021, BOLOGNA, International Festival "CantaBO": "Nightfall" (world première); The King's Singers
24-X-2021, 10 a.m., Vittorio Veneto (TV), 54° Concorso Nazionale Corale "Trofei Città di Vittorio Veneto": music tale "Faragubìn", for 3 treble voices and piano; Gruppo vocale Garda Trentino, dir. Enrico Miaroma
Published works: Motets for a cappella choir:


Agnus Dei,motet for mixed a cappella choir (1991) (ed. Ferrimontana - Frankfurt 2006, EF 3015)
Ave Maria,motet for mixed a cappella choir (1992) (ed. Ferrimontana - Frankfurt 2006, EF 3016)
Crucifixus,motet for mixed a cappella choir (1992) (ed. Ferrimontana - Frankfurt 2006, EF 3017)
Hic est Salvator,motet for mixed a cappella choir (1992) (ed. Ferrimontana - Frankfurt 2006, EF 3018)
Factus est Dominus,motet for mixed a cappella choir (1993) (ed. Ferrimontana - Frankfurt 2006, EF 3019)
Laetare Virgo,motet for mixed a cappella choir (1994) (ed. Ferrimontana - Frankfurt 2005, EF 3006)
Ave Verum,motet for mixed a cappella choir (1994) (ed. Ferrimontana - Frankfurt 2005, EF 3005)
Illumina faciem tuam,motet for mixed a cappella choir (1995) (ed. Ferrimontana - Frankfurt 2006, EF 3020)
Voce mea ad Dominum,motet for mixed a cappella choir (1996) (ed. Ferrimontana - Frankfurt 2006, EF 3021)
Jubilate Deo, motet for mixed a cappella choir (2002) (ed. Carus-Verlag - Stuttgart 2006, CV 7380); version for female choir (2011) (ed. Carus-Verlag - Stuttgart 2013, CV 7380/50)
Hortus conclusus,motet in the Renaissance style for mixed a cappella choir(2003) (ed. Ferrimontana - Frankfurt 2006, EF 3022)
Panis angelicus, motet for mixed a cappella choir (2003) (ed. Ferrimontana - Frankfurt 2006, EF 3023). The same piece published also by ARCOVA [Associazione Regionale Cori Valdostani] in 2003
Gaude Dei Genitrix,motet for female a cappella choir (2003) (ed. Ferrimontana - Frankfurt 2006, EF 3024)
In Paradisum,motet for female a cappella choir (2004) (ed. Ferrimontana - Frankfurt 2006, EF 3025)
O sacrum convivium,motet for mixed a cappella choir (2005) (ed. Ferrimontana - Frankfurt 2006, EF 3014)
Cantate Domino, motet for female a cappella choir (2005)(ed. Ferrimontana - Frankfurt 2009, EF 3379)
Exultemus, motet for mixed a cappella choir (2006) (Edizioni Musicali Europee - Milano 2008, in "La Cartellina" n.177)
Laudate Dominum, motet for mixed a cappella choir (2013) (ed. Carus-Verlag 2014, CV 7388)
Chiara una voce dal cielo, motet for mixed choir a cappella (2020) ( Ed. Feniarco, 2021, in "Nativitas Domini", FEN 060)
Cor mundum crea, motet for mixed choir a cappella (2022) (Ed. Sonitus, 2022, in "ANDCI Collection, vol3")
Other published works:
"Arabesque" for flute and piano (1991) ( ed. Rugginenti 1995 N° 50701)
"Toccata" for organ (1994) (ed. Carrara 1995 N° 4113, in the series "Bibliotheca Musicae ad Organum", by Arturo Sacchetti)
"Rallegrati o Terra", motet for choir and organ (1992) ( in "Celebriamo" and "È nato il Messia", ed. Carrara 1995 N° 4216)
"Ecco vi annuncio" for choir and organ (1994) (in "Celebriamo" and "Vi annuncio una grande gioia", ed. Carrara 1997 N° 4275)
"Tre antifone d'ingresso" for choir and organ (1996) (in "Celebriamo" and "Date lode al Signore", ed. Carrara 1997 N° 4311)
"Vous tous qui la Terre habitez", choral for organ (1997) (in "L'organo nella liturgia" and "Corali e Partite", ed. Carrara 1998 N° 4375)
Complete piano transcription (ed. Ricordi 2000 N°138447) of the score of the lyric drama "Tat'jana" by Azio Corghi (first performance: Teatro alla Scala the 21st October 2000)
Allegro da concerto, for harp (2000) (ed. Sonzogno 2003 N° 3184)
Ouverture "Omaggio a Schubert", for orchestra (2002) (ed. Sonzogno 2003)
Postludio su "Gustate e vedete" di J. Gelineau, for organ (2000) (ed. Rugginenti 2004, in AA.VV. "Versetti e Preludi d'organo sulle melodie del "Cantemus Domino", vol.3°)
Passacaglia sul Veni Creator, for organ (2002) (after the original version for orchestra, 1999) (ed.Carrara 2004 N° 4714)
Variazioni su Vexilla Regis, for organ (2003)(ed. Carrara 2006 N° 4865)
"Il Pagliaccio", popular neapolitan melody arranged for mixed choir (on the anthology "Choraliter No.7", ed. FENIARCO 2007)
Transcription for organ of the Ouverture from "La Gazza Ladra" by Rossini (2007)(Ediz. Carrara 2008 N. 5017)
4 popular songs from Ossola for male choir (2000-2008) (in "Canti di casa nostra" vol.II, ed. Associazione Culturale Coro Valdossola 2009)
"Se ti brami di vedermi", popular Istrian song (version for 4 mixed voices, 1993) (Edizioni Musicali Europee - Milano 2009, in "La Cartellina" n.187)
Trittico ottocentesco, for organ (Ediz. Carrara 2012 N. 5272)
Preludio al Salmo 14 "Chi potrà varcare" for organ (2010) (Ediz. Carrara 2012 n.5288 in AA. VV. "Preludi Organistici Vol. 1 ai Salmi di Turoldo - Passoni - De Marzi")
El pover Luisin, popular melody from Lombardy, arrangement for female choir (2012) (Ediz. Sonitus 2013 in the book "Radici nel futuro")
Due Corali, for organ (1997) (Ediz. Carrara 2019 n.5500/2, in "Hortus Deliciarum", vol2)
Tu scendi dalle stelle (2016), arrangement of Christmas tune for mixed choir (Ed. Sonitus 2021, in "ANDCI collection, vol2")
Indicative list of the unpublished works

Piano solo
"Iuvenilia" (20 pieces from average difficulty to higher) (1988-90)
"Teuflischer Waltz" (1994)
"No man's land" (suite of 3 pieces in between classical, jazz and pop, 1997)
Complete transcription of the Suite for grand orchestra "The Planets" op.32 by Gustav Holst (1998-99)
"Entertainment-Tarantella" (1999)
"Sonata" (2001)
"Carillon per Valentina" (2005)
"Improvviso per Ambra" (2009)
12 Études on Chopin's Preludes (2009-2010)
"Manu" (2011)
"Free Fantasy" (2013)
Concert Study "Ave Maria" (2018)
Allegro da concerto (2019, piano version of the original piece for harp, 2000)
Organ
4 Pieces (Preludio - Offertorio - Meditazione - Finale) (1994)
Soli, Choir and Orchestra
2 oratorio scenes : "La Resurrezione", "Lazarus"(1993)
Mass for choir, strings, brass and timpani (1995-96)
Credo II, for "The European Mass", for choir, brass, timpani, continuo organ (2012)
Orchestra
Orchestration of 3 Preludes by Debussy (1992): La fille aux cheveaux de lin / Minstrels / Les collines d'Anacapri
Variations on an Andantino in a min. (1993)
Variations on a theme by Hindemith (1993)
Variations on a theme by Dallapiccola (1993)
Passacaglia sul Veni Creator (1998-99)
A cappella choir
Magnificat, for mixed choir (2004)
"Amo", choral lyric on text by Giuseppe Tirinnanzi (2007)
"Caffè", musical recipe on text by Goldoni for mixed choir (2011)
"Benedetto sia 'l giorno", choral lyric on text by Petrarca (2012)
"Santa Lucia", choral lyric on text by Alessandro Bottelli (2015)
Salve Regina, for mixed choir (2016)
Ubi caritas, for mixed choir (2016)
G-string Swing, for 8 mixed voices (2017)
Tota pulchra, for mixed choir (2019)
Nightfall, choral lyric on text by the composer (2020)
Ecce vox clara (Chiara una voce dal cielo), for mixed choir (2020)
Tu es Petrus, for mixed choir (2021)
Tantum ergo, for mixed choir (2021)
Ave verum n.2, for mixed choir (2022)
22 arrangements of songs from Vallée d'Aoste, Trento, Istria, Lombardy, spirituals, pop-songs and other. from 4 to 8 voices (1992-2020)
Choir and Organ
"La luce del mondo" (5 pieces,1992)
10 sacred pieces
Choir and Piano
"Rapsodia friulana" for mixed choir and piano (2019)
"Little David", spiritual for female choir and piano (2019)
"Faragubìn", music tale for 3 parts children choir and piano (2020)
2 Pianos
Transcription of Day Tripper by Lennon-McCartney (1993)
Concert fantasy "Christmas everywhere!" (1993)
Voice and piano
"Ho sognato", lyric on text by A. Sabella (1990)
"Little David" (2001)
Chamber music
13 pieces for flute (vl. or cl.) and piano (1988-89)
"Schizzi dodecafonici": 15 pieces for ensemble varying from solo instruments to double string quartet (1991)
Musical comments for scenes from the movie "The endless game", for brass quintet and string quintet (1992)
Variations on an original theme, for erhu (or violin) and piano (2010)
For further informations on the unpublished works contact directly the composer pie.fer@alice.it For the published works by Pietro Ferrario, please visit the following websites:

Youtube channel: http://www.youtube.com/user/ferrariopietro Facebook: www.facebook.com/ferrariopietro wikipedia: http://it.wikipedia.org/wiki/Pietro_Ferrario